Get the Whole Class Participating with a Behavior Rap


I am so excited to be a guest blogger for Crystal today. My name is Arlene Sandberg and I have finally retired from 33 years of teaching and 4 more years as an Education Consultant. I have taught all over the United States including Hawaii and Alaska as well as overseas in Seoul, South Korea. Married to an Army officer gave me so many new opportunities to grow as an elementary teacher as I hardly taught the same grade twice. I also taught Special education and finally in my last 9 years in Anchorage, Alaska I was an ESL Resource Teacher/Specialist in Title I schools. So at the age of 63 I decided to start a blog and open up a store on Tpt this past February. I thought it would be a great part-time job sharing my knowledge and best practices that I had gained over the last 37 years. What was I thinking???!!!!! I had no idea what I was getting into and what my husband thought would be a nice hobby has turned into a full-time labor of love. I love connecting with teachers and creating materials that will help teachers make a difference for their students.


I loved working in a Title I school but the challenges are overwhelming and stressful. I only got to see the most limited proficient students in my learning center in the mornings as I traveled to 5 other schools in the afternoons. Today there are struggling readers and ESL students in every classroom. Many are afraid to take risks and participate in class. So I started to write plays, poems and chants that related to themes and content areas where it was a lot safer for them to participate. I can't begin to tell you how happy I was to see their faces light up as they acted out the chants and wanting to do them over and over again. We all know that young students in grades K-2 need to move around as their attention spans are shorter than those in the grades 3 and up. So as part of my Back to School packets I wrote 2 Raps. My "I Can Behave Rap!" was especially written for students in grades K-2. It is an Echo Rap where the class is divided into 2 groups and the 2nd group echos what the 1st group says. When learning the rap the teacher says the line and the whole class echos the same line. After they are familiar with it I add some actions to it. It is a fun activity to add to how you teach about the classroom rules. This rap is part of my Back to School "Hopping Into School"
packet which includes another fun Chant called "Can you Hop Into School" I hope you will enjoy teaching it to your students when you return to school.
You can download these raps by clicking on the picture below:
You can find other free poems and chant at my blog LMN Tree
or by clicking on my button and click on Freebies at the top of the page.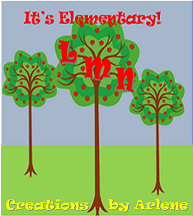 Thank you for making a difference for the students in your classrooms.